Today, the 21st August, John Green's highly anticipated second bestselling novel Paper Towns will arrive in UK cinemas. Admittedly, the anticipation surrounding the release of John Green's second novel to make it to the big screen is only partly due to his first novel, The Fault in Our Stars, being so well received. A lot of the buzz in the air this time round is thanks to the casting of the much adored British model, Cara Delevigne 23.
With previous minor appearances in a number of other films, this is not Cara's acting debut. Nor is she the first model to make the transition from runway model to on screen actor. In fact, models have been flitting in between the two mediums for years and doing so ever so successfully. It brings testament to the fact that beauty really can open doors. Of course, aside from opening doors, what models can also bring to the table is the hype, something which most actors in the early stages of their careers can't.
To celebrate Cara's role in Paper Towns, we are taking a look at all the models that have made their way to the big screen…
1. Cara Delevigne
Quirky, witty, tomboyish and a personality as big as her gigantic eyebrows, it only makes sense that Cara would want to shine on the big screen.
Cara Delevigne in Anna Karenina
Admittedly Naomi Campbell hasn't entirely switched careers, but she most certainly has dabbled taking on roles in Ali G In Da House, Girl 6 and most recently in melodrama series Empire!
Naomi Campbell in Empire as Camilla Marks
Naomi Campbell in Ali G Inda House
3. Rosie Huntington Whitely
Rosie HW was probably the reason girls actually started giving a damn about the Transformers movie franchise. And let's face it, who else could have filled the shoes of screen siren Megan Fox.
Rosie HW in Transformers Dark of the Moon
Not too dissimilar looking to Rosie HW but unlike the aforementioned models, Cameron Diaz is better known for her acting career as opposed to her modelling career. This is probably because she only spent four short years modelling, from the age of 17 -21, before she made her transition to the big screen. Her early career consists of movies such as Something About Mary, My Best Friend's Wedding and her film debut The Mask
.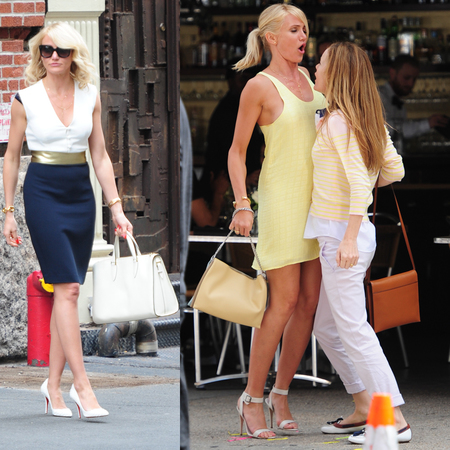 Cameron Diaz in Seventeen magazine
Cameron Diaz in The Mask
5. Monica Belluci
Some might know Monica Belluci for her affiliation with Italian Sicilian fashion duo, Dolce and Gabbana, featuring the striking Italian beauty in many of the fashion house's noteworthy ad-campaigns. While others will know Belluci for her role in Giuesppe Tornatore's movie Malena or Mel Gibson's Passion of Christ.
Considered one of the last true super models of our time, Gisele walked her last runway in Sao Paulo in April. Although Gisele's on screen career isn't extensive, her cameo in Devil Wears Prada is definitely well worth including in this list! The supermodel told the producers, she would only agree to be in the film if she didn't have to play a model.
So she played Serena…an employee of Runway magazine!
Gisele Bundchen in Devil Wears Prada
Happy viewing!